The benefits of a Machine Learning solution.
Effective
Machine learning solutions are able to efficiently analyze large amounts of data to help you develop automation strategies.
Accuracy
The machine learning algorithms indicate the probability associated with the predicted events. The resulting strategic decision is then made on the basis of numerical indicators.
Competitiveness
Being able to reliably predict trends or behaviors of its customers, allows companies to gain considerably in competitiveness.
Performance
A machine learning solution is fed with data, enriched over time. This allows it to refine its predictions and constantly improve performance.
The rise of artificial intelligence opens the way to new perspectives for companies. From now on, artificial intelligence will find its place in their information systems. It becomes possible to use their data to predict the probability of a future event.
Machine Learning allows to highlight certain correlations in order to automate operational decisions.
Anticipate your customers' needs with Machine Learning
Price prediction
Prediction algorithms can estimate the value of a product or service based on previous observations.
Product recommendation
Recommendation algorithms use a user's purchase history and data to recommend products or services that may be of interest to them.
Fraud detection
The algorithms can detect fraudulent and abnormal behavior. For example, an abnormal expense made by credit card abroad.
ChatBots
Conversational agents are based on NLP (Natural Language Processing) to detect the intentions and context of a spoken or written request.
Six steps of an automate an AI system
Each step brings benefits in terms of efficiency and quality of processes. It is a scale of levels that allows you to position your company and eventually take decisions to improve your current position:
1. Automated data feedback
the system provides reporting directly from the database
2. Suggestions
Creation of suggestions in the form of scenarios based on the information collected
3. Contextual assistance
The system produces specific alerts and provides recommendations based on the context
4. Task delegation
A global task is entrusted to the system, which will then take into account the useful information to achieve it
5. Responsibility
The system performs a number of tasks and autonomously
6. Full automation
The system has both automation and machine learning to perform end-to-end autonomous actions
You can count on us
A team dedicated to your project
Our trained and certified Data Scientists have a dual profile: both technical (computer science, statistics, mathematics) and business, they will be able to analyze your needs to implement solutions tailored to your context.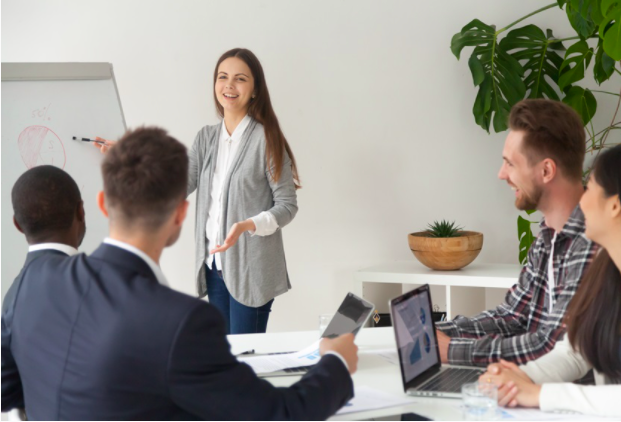 For more information, we invite you to consult our privacy policy.
To know and exercise your rights, in particular to withdraw your consent to the use of the data collected by this form, please consult the legal notice.